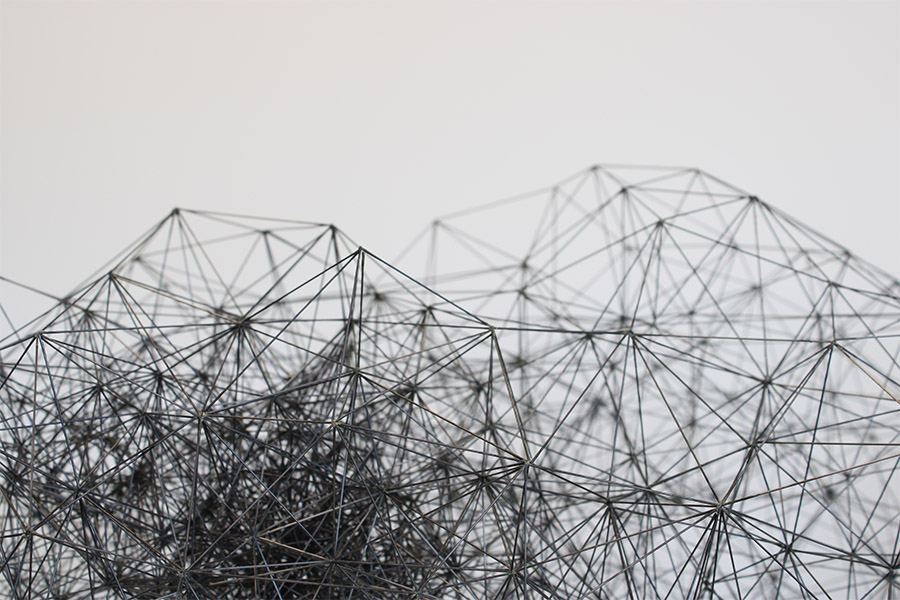 Peter Trevelyan: Delineate
25 May – 1 September 2019
Peter Trevelyan was artist-in-residence at Tylee Cottage for five months in 2017. As is always the case, the residency gave him the freedom to focus and consider where he was at in his career and where he might be taking his work in the future. Now two years after his time in Whanganui the exhibition Delineate brings together an exciting collection of new sculptures alongside selected works from his dynamic practice made over the last decade. As the title of this exhibition suggests, it is a continued interest in line, perspective, geometry, space and fragility that defines him as an artist.
Trevelyan has had a long-held interest in the importance of drawing. It wasn't until an art school friend gifted him a stash of mechanical pencil leads from a defunct architectural office that Trevelyan began to move his drawings from the 2D arena of the page into three dimensions, so that his work had a direct conversation with the space that it inhabited. During his art-school training he studied a lot of drawing through art history and the use of linear perspective to create an illusionistic space within the picture plane. Trevelyan has chosen to explore these ideas by dissecting drawing and pushing it into the real space where we, the viewers, are. In doing so he turns the illusion of linear perspective inside out.
Trevelyan's elegantly fragile, three-dimensional works investigate linear perspective but are also conversations with art history, mathematics, cartography. Although informed by a rigorous theoretical knowledge, each can be admired for their precarious dance between structural integrity and imminent collapse. Through years of trial and error Trevelyan has built up an affinity with his chosen media, commenting that "as soon as I started constructing forms from this highly unsuitable media, the material started educating me about exactly what methodologies would actually work". Due to the small scale of the material he is using – 0.5mm graphite mechanical pencil leads – it means that the larger works in this exhibition are constructed from thousands of parts.
He adds, "each of these works is minimal in its use of mass produced material; it is baroque in its complexity. While the work is optically complex it is a complexity built by the repetition of simple basic units and modules, not a complexity formed through sophisticated techniques or advanced materials".
Like many of the best makers, Trevelyan defies categorisation. He is an artist, mathematician, spider, magician in equal parts and his practice to date is a gentle reminder that despite living in a world full of white noise, there are systems and lines that surround us all every day, everywhere.
Sometimes we just need to pause a little and look for them. To consider them.
Greg Donson
Curator & Public Programmes Manager