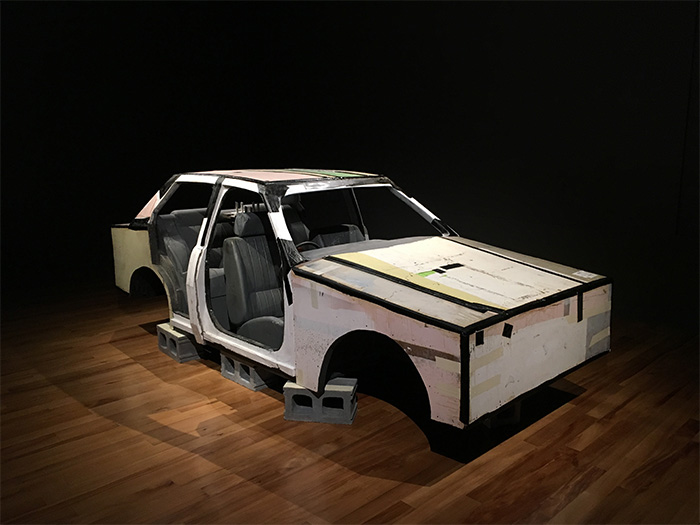 Glen Hayward: Dendrochronology
1 September – 2 December, 2018
In 2016 Toyota reached the milestone of having produced its 'Corolla' model for fifty years. At that time a staggering 44.1 million vehicles had been sold in over 150 countries and regions around the world. It has consistently been New Zealand's top-selling vehicle, so it's no wonder that many of us have encountered this vehicle in some guise over the course of our lives. For Glen Hayward, his first Corolla memory was an abandoned model in a paddock that he used to play in as a child growing up in Whanganui. It was this memory that resurfaced when Hayward returned to the city in 2014 to be artist-in-residence at Tylee Cottage and that inspired the work you see before you – a full-scale replica of that long forgotten model from his childhood.
Since graduating from Auckland University's Elam School of Fine Arts, Hayward has worked exclusively in wood and his source material for his hyper realist carved and painted sculptural works has been the everyday – pedestrian, often ugly and mass produced things. This work is Hayward's largest single object to date and is in sharp contrast to the works that he produced as a result of his Tylee residency. That work titled 'The River Glean' used found wooden objects that Hayward sourced locally from second-hand shops and then added and subtracted elements from. While making this work he began planning how he might create a full-scale replica of the Corolla from wood. By late August 2017 this work became a reality and after being shown at Sydney Contemporary, the Dunedin Public Art Gallery and Objectspace, it has come full circle to be shown in Whanganui at the Sarjeant, which seems fitting given that city provided the memory bank from which it came.
Unlike Hayward's other works that have been faithful replicas, Dendrochronology represents a shift in his approach. Although the car features elements that might appeal to a childhood sensibility; levers to pull, a steering wheel to turn, the exterior of the car is more adhoc, like a kids drawing or a taped together model. Lucinda Bennett writes "Dendrochronology doesn't try to be an exact replica of the thing. It's rougher and hazier, the idea of a car, the fleeting memory of a car. This is perhaps why some details are sharp and precise while others are lumpen or scrappy – memory is broadly sensuous, only fragments of feelings, rarely panoramic." The title of the work is the word used to describe the practice of dating a piece of wood by comparing its growth rings to another piece of wood.
Like all memories that shift and change, Hayward has added to and subtracted from this work, since it has returned to Whanganui. Parts have been repainted, components tweaked and elements of the artist's studio which he moved into in early 2017 have literally ended up as part of the final work, making up the cladding of the exterior. This beautiful wreck of a car encourages us to traverse the terrain of childhood and adulthood, fact and fiction, Hayward wants us to bend down and peer in, to experience it much like the artist as a boy and as a grown man.
Greg Donson
Curator & Public Programmes Manager
The title of the work – 'Dendrochronology' – is the word used to describe the scientific method of dating growth rings in trees, from the thickness of these rings, information about the conditions in which a tree grew can be established.