09 May

Submissions open for three $20,000 Tylee Cottage artist residencies for the 2018 – 2020 period

Application period closes 5pm Friday 25 May 2018

The Tylee Cottage Artist-in-Residence programme is generously supported by
Creative New Zealand's Toi Uru Kahikatea (Arts Development) Investment Programme

The Sarjeant Gallery Te Whare o Rehua Whanganui is calling for applications for its renowned artist-in-residence programme at historic Tylee Cottage in central Whanganui. In 2016 the residency celebrated its thirtieth anniversary and to date over fifty artists have participated in the programme including many who have gone on to become some of New Zealand's most accomplished visual arts practitioners.
The residency is an opportunity for an artist with New Zealand residency currently living outside of Whanganui, to develop a body of work whilst living financially unencumbered at Tylee Cottage for five months. The cottage is provided rent free and with maintenance, electricity, phone and internet covered by the Sarjeant Gallery in its role as a cultural facility of the Whanganui District Council. A stipend of $4 000 a month is paid for the five month period.
There are three separate and distinct residencies on offer:
RESIDENCY 1: September, 2018 – January, 2019. For a female painter aged 35+ years. The selected artist will also be the recipient of the Lilian Ida Smith Award valued at $5 000
RESIDENCY 2: February – June, 2019. For a craft/object-based practitioner
RESIDENCY 3: September, 2019 – January, 2020. For a photographic/new media artist
The aim is that as a result of the residency a body of work will be developed that will culminate in a solo exhibition at the Sarjeant Gallery in their 2019 – 2020 programme and upon negotiation, a work produced from the residency will enter into the Sarjeant Collection.
To read the complete Tylee Cottage prospectus and download the application form:
Go to: sarjeant.org.nz/tylee-residency/
The Tylee Cottage

The Tylee Cottage was built in 1853 and is one of Whanganui's oldest homes. It is named after Thomas Tylee, a Whanganui pioneer who was in charge of the commissariat for the 65th Regiment. The cottage was originally situated in Wilson Street, Whanganui before being moved to its present location in 1982 and restored.
The first Tylee residency commenced in January 1986 and welcomed photographer Laurence Aberhart as its first resident. Since then over fifty artists have been Tylee residents, with many choosing to settle permanently in Whanganui afterwards.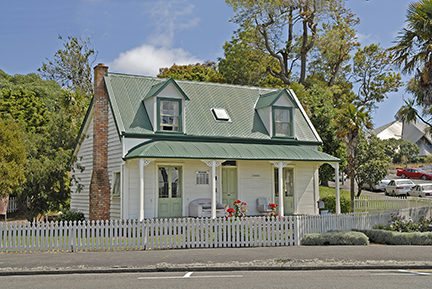 Lilian Ida Smith Award 2018
In 2018 the $5 000 Lilian Ida Smith Award will be additional to RESIDENCY 1 to acknowledge the 125 year anniversary of women gaining the vote in New Zealand and the global suffrage movement.
Lilian Ida Smith 1920 – 1983 was a Whanganui resident who in her will instructed her estate to be divided into three equal parts to establish trusts to assist people aged 35 years and over to develop and further their interest in painting, writing and teaching music. The Sarjeant Gallery was charged with administering the painting strand of the bequest and in 1993 established the Lilian Ida Smith Award. An accomplished artist herself, sadly she never exhibited and her desire to support someone over 35 was in recognition of the constraints her father, Vivian Smith, faced in response to his experimental output as a painter. Since 1993 the award has been offered three times with the last being in 2003.
Fifteen years on, the Sarjeant is reactivating this generous bequest to be awarded in conjunction with a five month residency at Tylee Cottage. The additional criteria is that we are limiting applications to female painters 35 years or over.
Current Tylee resident
The current Tylee Cottage Artist in residence is ceramicist Kate Fitzharris from Dunedin who is creating a 'Library of Things' as a result of the stories shared with her by local Whanganui people about ceramic items important in their lives.
The Sarjeant Gallery

The Sarjeant Gallery Te Whare o Rehua Whanganui was founded through the generosity of Henry Sarjeant who in 1912 left a large sum of money – the equivalent of over $70 million in today's terms – to establish the gallery "as a means of inspiration for ourselves and those who come after us". The Gallery opened in 1919 and is recognised as one of the country's most important heritage buildings. The Sarjeant Collection has become one of national significance and numbers over 8500 works of New Zealand and international art, spanning 400 years.
The Sarjeant Gallery Redevelopment

In 2012, the Sarjeant Gallery at Queens Park, Pukenamu – a Category I listed heritage building – was assessed as meeting only 5% of the current building code and classed as an earthquake prone building. It was vacated of all staff and works in 2014. The Collection and an ongoing exhibition programme is now housed at Sarjeant on the Quay, the temporary home of the Sarjeant in central Whanganui. The Sarjeant Gallery Redevelopment Project to strengthen, rebuild and extend the original gallery was green lit in December 2017 and the two year construction will begin in 2019.
To read the complete Tylee Cottage Artist-in-Residence 2019 – 2020 prospectus and how to apply go to: sarjeant.org.nz/tylee-residency/
For any further information or to arrange an interview with Curator and Public Programmes Manager Greg Donson who administers the Tylee Cottage programme please contact Sarjeant Gallery Relationships Officer Jaki Arthur on jaki.arthur@sarjeant.org.nz or 027 577 4923.