Sarjeant Gallery redevelopment site wall decorated by local artists and the Whanganui community.
The Sarjeant Gallery redevelopment site at Pukenamu Queen's Park is ringed by a 2 meter high wooden wall which is over 200 meters in length. The wall will be in place for the 32 months that the redevelopment project is set to take place. The white wooden wall is currently being adorned with striking artworks by local artists, and the community; as well as information about the project and images from the Sarjeant's nationally significant permanent collection.
LOCAL ARTISTS CREATE WORKS FOR THE SARJEANT WALL
Local artists Cecelia Kumeroa, Cracked Ink, Mike Marsh and Dan Mills and have been commissioned by the Sarjeant to design artworks for the site wall. These artworks will be printed on tight weave plastic mesh or heavy PVC and permanently attached to the site wall.  They will all be 2 meters high and up to 40 meters in length.
The local artists are supported in this project by the Whanganui Community Charitable Trust who are contributing to the payment of the artist's fees.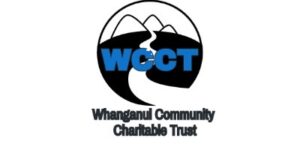 "Without the support of the Whanganui Community Charitable Trust we wouldn't be able to have these artworks created – we so appreciate the vision of the Trustees and their commitment to supporting artists in our community, especially at this time in history when so many have had their income generating possibilities severely curtailed by COVID-19" says Jaki Arthur the Sarjeant Gallery's Relationship Officer who has managed this project. "The wall is a perfect artist's canvas and I am so excited about the works that Cecelia, Si, Dan and Mike have created for the Sarjeant Gallery site at Pukenamu. I think the community will really love them"
Rosemary Hovey, a spokesperson and one of the Whanganui Community Charitable Trust's Trustees said, "The Trust is delighted to support the local arts community. We feel this initiative will create artworks the community can enjoy but it will also enhance the promotion of Whanganui as an arts centre. It adds to other public art such as the Whanganui Walls project."
FOUR WHANGANUI ARTISTS CREATE SITE SPECIFIC WORKS FOR THE WALL
Cecelia Kumeroa (Ngāti Tūmango, Ngāti Tuera/Hinearo ) has drawn upon her personal connections to Whanganui in her artwork which will cover 41.7m – she calls her work 'Ki uta, ki tai'.
Her completely original artwork features various designs using niho-taniwha to convey attributes of bravery, determination, strength, perseverance, tenacity. Cecelia Kumeroa says "There are also designs associated with protection, abundance, achievement, cultivation, innovation, balance, proliferation of ideas & life. The last panel (featuring a white Ruru with Tūmango design) is named 'Nga hau e wha' or the four winds – for the location of the Sarjeant Gallery building atop Pukenamu, a historic fighting pā and a special site of significance for local Whanganui tribes"
Her design also shows the native fauna of our area including tui, kingfisher, shark and whitebait. There is also an enormous owl which is Cecelia's whanau kaitiaki. Cecelia's mural is 2m in height and over 40meters long and is designed to be seen in its entirety from Bell Street opposite the pipe band rooms, and will be visible from across the river. "Cecelia's design is absolutely specific to our little city of Whanganui. I am very excited to hear the public's reaction to these stunning murals. I think they are going to make people really smile which is exactly what we all need more of" says Jaki Arthur.
Cecelia Kumeroa says: "'I hope to bring the beauty and innovation of our Whanganui tupuna designs into the town city centre. I feel privileged to have been given this opportunity. Ngā mihi nui.'
Reflection by Cracked Ink is visible by walking or driving to the right of the front door of the old Sarjeant Gallery building at Pukenamu Queen's Park
Dan Mills' stunning artwork below is called 'Expression in Yellow' and has seven renditions of the Sarjeant Gallery's dome hidden within the work. Dan's mural artwork will take over a space more than 28m long. He says ""I'm thrilled to be involved in this project, and to adapt a painting of mine to this space"
Mike Marsh has created a giant collage of images related to the Sarjeant and to the world of art. His work is called 'S is for Sarjeant' and is a hand cut collage digitally enlarged and printed to cover an 18m long strip of the wall beside the Whanganui band rooms. He says "I wanted to create something fun that reflects my quirky sense of humour but also strongly referenced the Sarjeant Gallery redevelopment project. To achieve this I wove images of the Sarjeant building throughout the whole collage along with various other images from magazines and a couple of my own drawings.
Cracked Ink AKA Si Omer has created his 17m mural using a myriad of his widely recognised Cracked Ink figures heralding a big friendly call out to Whanganui. He says: "This piece reflects the diversity of our community and the variety of characters that live here. Whanganui is a place where you can be yourself and be accepted, which makes it such a great place to live, this is a celebration of that, in my style"