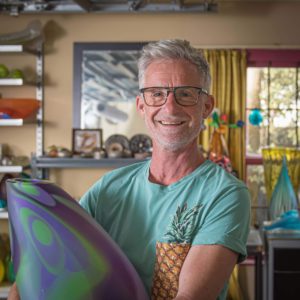 Each month a member of our community is invited to browse our online collection and select six of their favourite artworks. Each 'My Choice' selection, together with personal responses to the works, will be available to view on the Sarjeant Gallery website for one month at a time. The February 2020 My Choice has been selected by Phil Stokes and is available to view until 29th February 2020.
Philp Stokes is a leading glass artist who works between Whanganui and Melbourne, Australia. He is a stable artist of New Zealand Glassworks where he makes, teaches and presents his craft.
Philip Stokes has worked as a full time glass artist with hot glass since 2002. He graduated with honours at Monash University in Melbourne, Australia in 2001 and also received the prestigious Pilchuck Scholarship Award. He opened the first open access hot glass facility in Melbourne in 2002 and continued this business until late in 2016 when he relocated to New Zealand with his husband. Philip now works from New Zealand Glassworks where he creates his own art works, teaches and helps to make New Zealand Glassworks' production. His work is held in private collections around the world, in commercial public spaces internationally, including the National Art Glass Collection in Wagga Wagga, Australia.