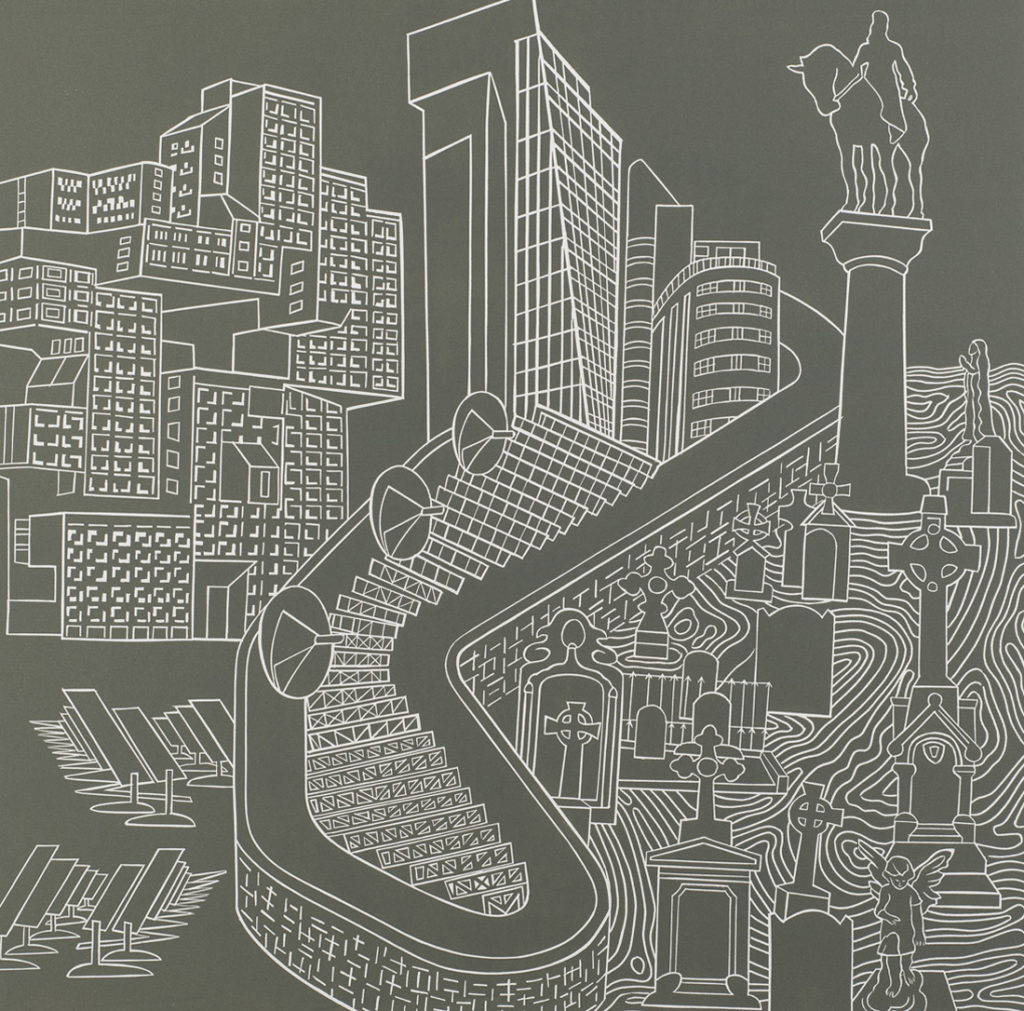 Anthony Davies: Selected Works 2011-2019
23 March – 26 May 2019
In 2008 the Sarjeant Gallery hosted an exhibition of Anthony Davies' work titled Ten Years After, at which time Davies had only been living in Whanganui for around six years. Now, over a decade later, the English born printmaker is well established in the city and has recently moved his Hotspur Studio from his home-base in Aramoho to a central city location in Guyton Street.
Anthony Davies is not an artist who makes single images, he makes series of works that are made in response to his observations of the world around him. His subject matter is as varied as his technique, derived from both local and international media sources. A constant throughout is the presence of either human or natural crises: asylum seekers in Europe; conflict in the Middle East; people rioting; homelessness and poverty abroad and in New Zealand. These are images we are all used to seeing in news media, yet they feel extra confronting in the context of a gallery visit.
Displayed at Sarjeant on the Quay are works from three of his series from 2011-2015: Apocalypse Now 2011-12, Utopia (Post Christchurch) 2012-14, and Plight of the Innocent 2015-16. Rather than focusing on one worldwide catastrophe of biblical proportions, Davies' Apocalypse concentrates on individual loss and disaster, depicting scenes like Japan's 2011 earthquake and tsunami, or the Rena oil spill near Tauranga, which also took place in 2011. Events which, to the people involved, may have felt like the end of their world.
His Utopia series took a slightly different tack, this time actual scenes following the 2011 Christchurch earthquake were replaced with Davies' re-imaginings of how the city might look in the not too distant future. He has reworked well-known landmarks into futuristic landscapes which are completely new while being strangely familiar.
For Plight of the Innocent, Davies selected his subjects from international news stories, covering conflict, disaster, poverty, displacement and the destruction of the natural environment. The series highlights the importance of the need to respect and care for our planet and fellow humans.
Being shown for the first time are two recently completed series from this year that explore themes of pollution and animal cruelty. The exhibition is testament to an artist who is deeply committed to his medium and using it to explore themes that are challenging and can be at times confronting.
Greg Donson
Curator & Public Programmes Manager