22 Dec

Government confirms Sarjeant Gallery's Re-development funding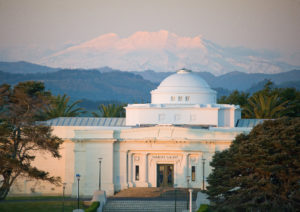 Wanganui Chronicle – Staff reporter
The Government has confirmed its $10 million contribution to the Sarjeant Gallery redevelopment this week with a letter from Prime Minister Jacinda Ardern.
The letter from Ms Ardern, who is also Minister for Arts, Culture and Heritage, says she is supportive of the project and has instructed officials to proceed with drafting the funding agreement as she looks forward to celebrating the project's completion.
The Government funding — which comes from the Regional Culture and Heritage Fund — will be released in stages during the construction period.
Meeting the funding conditions set in the government's time-limited $10 million offer has been a crucial step in the $34.9 million redeveloped of Whanganui's iconic gallery.
Those conditions were satisfied when Whanganui District Council agreed to underwrite any shortfall in funding. The Sarjeant Gallery Trust is currently about $3 million short of the $34.9 million target.
Trust chairman Nicola Williams said yesterday that government support had been critical and getting confirmation of the funding prior to Christmas was the best possible news. "It's also an endorsement of the national significance of the 98-year-old heritage gallery and its collection which spans 400 years of international and New Zealand art history."
Ms Williams said the project could not have made it to this point without the support of the district council and a huge financial contribution from the private sector. "We have been overwhelmed at how people have embraced the project, against all the odds, showing extraordinary generosity that has gone way beyond expectation."
She said fundraising was continuing and the trust was confident of raising the balance of the capital required during the construction phase.
Mayor Hamish McDouall said the fundraising effort had been exceptional. "What has been achieved so far is a staggering accomplishment and will be hugely beneficial for the Whanganui region."
Detailed design work for the redevelopment is due to be completed next year with construction timetabled to start in 2019.
First published in the Wanganui Chronicle on 23 December 2017