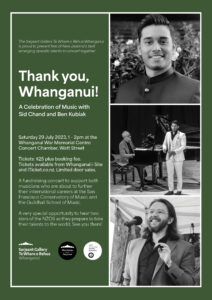 Saturday 29 July 2023 at 1pm-2pm
The Sarjeant Gallery Te Whare o Rehua Whanganui is proud to present two of New Zealand's best emerging operatic talents in concert together.
Thank you, Whanganui!
A Celebration of Music with Sid Chand and Ben Kubiak
Accompanied by virtuoso pianist Ben Kubiak, New Zealand tenor Sid Chand will sing a special selection of art songs and operatic arias at this very special fundraising concert to support the future of New Zealand's operatic talent.
Sid Chand and Benjamin Kubiak are no strangers to Whanganui, being multiple year participants at the New Zealand Opera School performing during Whanganui Opera Week. Sid now travels off to the land of the Golden Gate Bridge, San Francisco, where he will be furthering his singing career at the San Francisco Conservatory of Music. Benjamin, a virtuosic genius in his own right, will be travelling to London to study at the prestigious Guildhall School of Music, furthering his career as a collaborative pianist and répétiteur.
Join Sid and Ben as they say thank you to you, the people of the beautiful city of Whanganui, for supporting them through their years of development at the New Zealand Opera School. Your support has been and will be paramount to the success of these two home-grown talents. See you there!
Here is a link to Sid singing. We are very luck he is one of New Zealand's best tenors. Unreal:      https://fb.watch/lk_rm-_0SG/
Venue: Whanganui Memorial Centre Concert Chamber, Watt Street, Whanganui
Tickets:  $25 Admission plus booking fee.  Tickets at the iSite and iTicket.co.nz plus limited door sales.
Bookings: Purchase here,
This is a Musician's for the Sarjeant event for all ages.