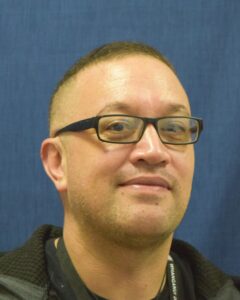 Each month a member of our community is invited to browse our online collection and select six of their favourite artworks. Each 'My Choice' selection, together with personal responses to the works, will be available to view on the Sarjeant Gallery website for one month at a time. The November 2020 My Choice has been selected by Whanganui District Council Customer Services Officer, Taane Tamati, and is available to view until 30 November 2020. Taane writes:
"Working in Customer Services and dealing with people, our culture now is a people first culture. I find this fits in perfectly with what my role is. As in essence, regardless of your role, we are all kaitiaki from the mountains to the sea.
Hutia te rito o te harakeke, kei hea rā te kōmako e kō?
Kī mai ki ahau, he aha te mea nui o te Ao?
Māku e kī atu, he tangata, he tangata, he tangata.
Born and raised in the Rivercity, my ancestry of Ati hau nui aapaparangi and also Tuwharetoa links along with kahungunu and te whanau aapanui. I love Whanganui for the simple fact that I have a spiritual connection. "
Taane's comments on Ans Westra's photograph Wanganui Colour Work no. 2, 1990 are an excerpt from an article he wrote for the Whanganui Chronicle last year which can be viewed here: https://www.nzherald.co.nz/whanganui-chronicle/news/museum-notebook-mako-me-tuatara-old-stories-and-new-science-meet/JHKYS6SBLPZW7KZGH7SJUDEXQU/