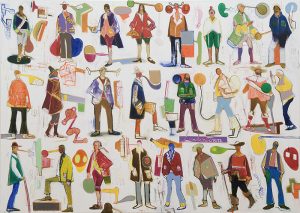 My Choice is an exhibition series offering a unique and fresh perspective on the Sarjeant collection.  Presented in a completely new format My Choice is a series of virtual exhibitions viewable online.  Each month a member of our community is invited to browse 'Explore the Collection', our online collection portal, and select six of their favourite artworks from the collection which hold a special meaning or significance to them.
Whanganui's Mayor Hamish McDouall is the first invited guest and, to launch the series, his selection is on display here in the Gallery until 25th August, as well as online. Hamish was born and raised in Whanganui and following his career as a lawyer, not to mention having achieved fame for winning both Sale of the Century and Mastermind as well as authoring a number of books, Hamish was elected as a Whanganui District Councillor in 2010 and became Mayor of Whanganui in 2016.  He has been a long-time supporter of the Sarjeant Gallery and the Gallery's collection and we are delighted he is able to launch this series.
Hamish says "Since I came back to Whanganui in 2008 the Sarjeant has been a real totem for my family. We have loved seeing more and more of the collection and to be able to look through the sculpture and painting store and select works that resonate was a real excitement for me."
"Two years ago I was thinking I should find a way to celebrate things I loved about Whanganui and I was joking around about selecting 50 favourite paintings and so I approached the Sarjeant to see if I could make a selection for an exhibition. And here it is! I wish I could have had a choice of 100 artworks on display."
Hamish's diverse selection reflects aspects of his personal history: he once owned a cat by the same name as Catherine Moore's sculpture Sailor, the Cat; his love of travel is evident in The Towers of San Gimignano by A Micheli; and it's clear he has a close connection with Whanganui through his childhood memory of shopping trips to Whanganui's iconic department store London Town. Mark Braunias's exuberant 2008 painting London Town draws its imagery from advertising images in the archives of the now defunct department store and echoes the Mayor's memories.
The next exhibition in the series will be available to view on the Gallery website from September 2019.
Jennifer Taylor Moore
Curator of Collections