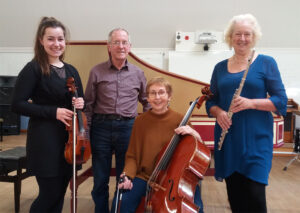 TACH Baroque Quartet: Musicians for the Sarjeant
Sunday 18 April, 4.30pm at Sarjeant on the Quay, 38 Taupō Quay
The TACH Baroque Quartet will present music by 18th century Baroque composers Bach, Handel and Telemann as well as compositions by 20th century composers Jacques Ibert and Robert Hinchliffe. The quartet's distinguished instrumentalists are Roy Tankersley MNZM, Ingrid Culliford MNZM, Annie Hunt and Shontae Arthur.
Tickets: $20, Gallery Friends & Stars $15, Students $5,  purchase from Sarjeant on the Quay or by phoning 349 0506
This is part of a series of performances under the banner of Musicians for the Sarjeant, a fundraising group for the Gallery's redevelopment project.