A group exhibition of new work by Whanganui artists to celebrate Matariki / Puanga 2023 – a joint initiative by Awa Rere Roa Whanganui Māori Visual Arts Collective, curated by Vanessa Edwards and the Sarjeant Gallery Te Whare o Rehua Whanganui.
Including work by:  Brigham Anderson, Isaiah Barlow, Gabrielle Belz, Jacqui Broughton, Vanessa Edwards, Aaron Te Rangiao Gardiner, Cecelia Kumeroa, Natasha Keating, Hemi Kiwikiwi, Ngaroma Poa, Tokarārangi Poa, Maehe Ranginui, Ming Ranginui, Tia Ranginui, Frances Stachl, Wi Taepa, Rochelle Te Kaho, Maiangi Waitai, Raukura Naani Waitai.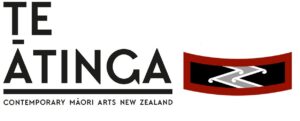 He Tohu Tēnā Pea | It Is Perhaps a Sign
One might say "He tohu tēnā pea?" to acknowledge when one feels something they are witnessing is a sign something is about to happen, is happening or has happened.
This exhibition builds on the success of the 2022 Puanga show Huritau held at Whanganui Arts at the Centre to showcase practising Māori artists from the region. Since then, the last year has been challenging for many as we struggle to make sense of the ever-changing world. As we once again move into the phase of Puanga, we start to reflect on our struggles, our losses, our achievements and our growth. What can we learn from this?
For Māori, tohu (signs) are often environmental indicators developed and used to signal, monitor and forecast changes in the natural environment. The busy-ness of our everyday lives, however, can rob us of our senses by disconnecting us from our environment, ourselves and each other. This exhibition is a Māori response that reminds us to slow down and take notice of the signs all around us and within us.
Puanga is one of those signs, signalling the ending of one phase and movement into a new one, prompting people to come together in wananga, to rest and reflect. It is especially a time to remember those whom we have lost; those whose names we will say so they may become stars in the night sky.
Likewise, this exhibition signals the end of a phase of time, almost a decade, of Sarjeant on the Quay. It beckons us to celebrate and reflect whilst shifting into a new phase as the Gallery team prepare for the return to Pukenamu Queens Park in 2024. We are pleased as Awa Rere Roa – Whanganui Maori Visual Arts Collective to have the opportunity as the last scheduled show in this space to fill it with a Māori narrative acknowledging our losses and struggles, but also manifesting our hopes and aspirations.
Vanessa Edwards
Curator and Co-ordinator Awa Rere Roa
The staff of the Sarjeant Gallery Te Whare o Rehua Whanganui are pleased that our last programmed exhibition at Sarjeant on the Quay is one that celebrates Puanga in Whanganui but is also the perfect way for this institution to acknowledge that we are moving forward into a new chapter of our history.
The exhibition brings together exciting new work produced by a selection of this region's innovative Māori makers and it signals a new way for us to weave collaborative ways of working into our programming.
We would like to thank Vanessa Edwards for her mahi with Awa Rere Roa – Whanganui Maori Visual Arts Collective and Te Ātinga Contemporary Māori Arts New Zealand. Most importantly we'd like to congratulate the artists in the show who have produced work that explores the kaupapa of the exhibition in sensitive, innovative and thought-provoking ways.
Greg Donson
Curator and Public Programmes Manager
Sarjeant Gallery Te Whare o Rehua Whanganui