Basement Bargains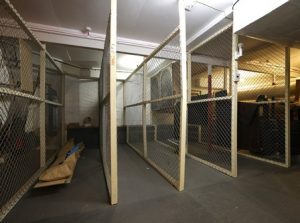 Since the beginning of the modern museum in the eighteenth century, relocations and building projects have been essential to meet the demands of collection growth and mitigate the dangers presented by crises.
The Museum of Modern Art in New York was founded in 1929 and relocated three times in its first ten years. Its current home in Manhattan, which it has occupied since 1939, was redeveloped in the 1950s, 1960s and 1980s and most recently in 2006. The Tate Gallery in London, which opened in 1897, has undergone seven major extensions, the first during its first fifteen years of operation in a project that doubled the size of the gallery.  The Victoria and Albert Museum has moved its collection several times, the most dramatic being at the beginning of World War Two when the vast majority of the collection was relocated to a quarry in Wiltshire, to Montacute House in Somerset, or to a tunnel near Aldwych tube station.
The Sarje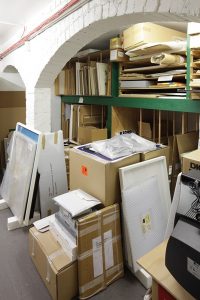 ant Gallery has been lucky enough to have spent almost 100 years in its beautiful home at Queens Park, but last year we moved to our temporary home by the river at 38 Taupo Quay because of the earthquake prone nature of the grand old building. As with any move this size it has given us the opportunity to clean every corner and reassess what we want to keep and what we need to part with. We are offering the chance to buy a small piece of the Gallery's history in the form of surplus frames, packing and storage crates, some excess exhibition furniture and a wide selection of catalogues and posters.
This is a great opportunity for all the art lovers, students, artists and Sarjeant supporters to stock up their libraries, frame their works and even collect a memento of the gallery itself.  The sale will take place in the Gallery at Queens Park on Saturday the 6th of June from 9am.